Home

/

Soudal

/

5L Soudaprim DP Floor Level Primer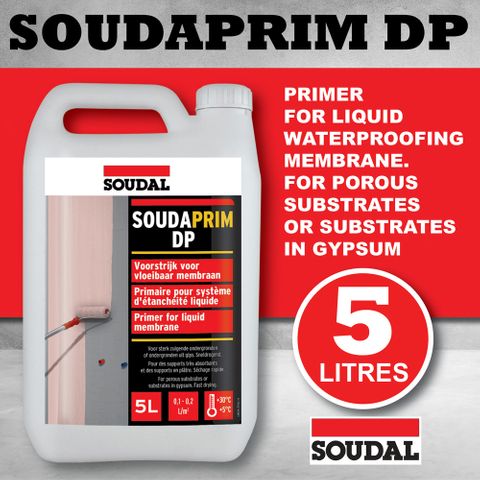 5L Soudaprim DP Floor Level Primer
Description
Description
Soudaprim DP is a polymer dispersion with a plasticizer, a flow controlling agent and preservation additives. It is fast-drying through water evaporation, ready to use and solvent free. The very fine particles making it a sealer, and its very low viscosity, give it a higher penetrating capacity compared to other primers. Soudaprim DP penetrates completely in the substrate, resulting in a higher cohesive strength of the latter. Once applied on a level surface and cured, it can be coated with a liquid membrane such as Soudagum LM or Soudaproof FX.
Features & Benefits
Soudaprim DP comes 'ready to use'. Just stir thoroughly before use
High coverage
Deep penetration nano-particles
Solvent-free
Easy to apply
Fast application. Dry after appr. 1 hour
Strengthens substrate
Limits absorbtion by substrate
Binds dust
Applications
As a primer before application of a waterproofing membrane on indoor floor and wall surfaces that are porous or on absorbing mineral substrates such as concrete, cement, anhydrite, gypsum boards, etc…As a preliminary treatment on sandy or powdery substrates. Substrates should not be subject to constant immersion or rising damp. Possible applications are in bathrooms, shower cubicles, kitchens, laundry rooms.
Packaging
Coverage
100 mL per m² – 200 mL per m² in 1 layer.
Within Sydney Metro
All orders placed before 4:30pm (mon-thurs) will receive delivery the next morning. A flat rate of $20 will apply. Conditions apply.
Outside Sydney Metro
Please contact Timberfix on 1300 888 729.