Home

/

Chemset

/

Chemset Reo 502 PLUS Jumbo 600ml Heavy Duty Epoxy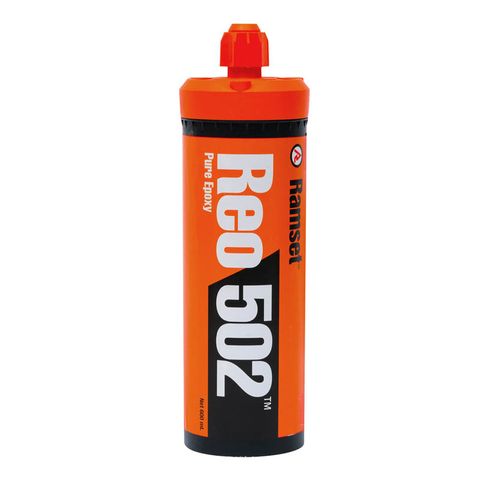 Chemset Reo 502 PLUS Jumbo 600ml Heavy Duty Epoxy
Description
Chemset Reo502 J
Reo 502™ is a high performance pure epoxy that provides high load capacity combined with tolerance to adverse anchoring environments including core drilled holes, oversized diameters, flooded conditions
and underwater.
One product for all anchoring environments simplifies product selection.
Reo 502™ is available in two versions; Reo 502™ EF for easy dispensing in cold conditions and standard Reo 502™ with quick 3 hour setting.
Key Features
Versatile Pure Epoxy Chemistry
Suitable for Flooded Holes, Oversized diameter, core drilled holes and underwater
Quick 3 hour loading time @ 20°C (Reo 502™)
Easy cold weather dispensing epoxy (Reo 502™ EF)
Long working time for deep embedment
Certified for repeated loading for 3 million cycles
Electrical insulator (non-conductive)
Typical Applications
Post - installed reinforcing bar connections for concrete walls, columns and beams
Structural steel connections
Timber frame tie down per AS1684.2-1999
Starter Bars
Within Sydney Metro
All orders placed before 4:30pm (mon-thurs) will receive delivery the next morning. A flat rate of $20 will apply. Conditions apply.
Outside Sydney Metro
Please contact Timberfix on 1300 888 729.